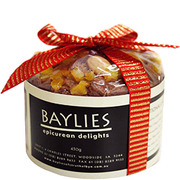 Handmade in the Adelaide Hills with the best quality South Aussie ingredients, including a dousing of Barossa Valley brandy.
Baylies Epicurean Delights Traditional Handmade Cake 250g
Finding presents for her seems like a difficult task, especially if it's your first time to hunt for the perfect gift. Another reason it becomes a challenge is when the recipient of your gift is not that easy to please. She may have high standards that you need to meet. If this is the case, your gift of choice should be something which can surprise, delight, and brighten her day. It should be something that's unexpected but will appeal to her taste and senses. Simply put, one of the perfect presents for her that you should consider is something exceptional like the traditional handmade cake from renowned gourmet brand Baylies.
Why Baylies Epicurean Delights Handmade Cake is one of the Best Presents for Her
Baylies is one of the most sought after gourmet brands in Australia and even around the world. This is why the Baylies Epicurean Handmade Cake is prized among people with sweet tooth and those looking for delectable gifts. Made using the highest quality of South Australian ingredients and mixed with a generous amount of Barossa Valley brandy, the Baylies Epicurean Delights Handmade Cake makes one of the best presents for her for many reasons.
First, this handmade cake was made using the choicest ingredients so your special someone will surely be delighted over its irresistible and delectable taste. Secondly, just the word Baylies signals luxury and so she would know you really made an effort to get it. As such, whether you're giving it to your girlfriend, sister, or mother, this handmade cake is guaranteed to put a smile on their faces. Sending these presents to any of them only shows you've mastered the art of gift-giving. Lastly, this traditional handmade cake is highly coveted. Almost everyone wants to get their hands on this handmade cake because of its heavenly taste. With this in mind, your effort of getting these presents for her will surely be appreciated and rewarded.
A Mouth-Watering Handmade Cake for You and Your Loved Ones
The Baylies Epicurean Delights Handmade Cake was baked in Adelaide Hills by the most skilled bakers. It is the perfect gift to celebrate any occasion, from anniversaries to birthdays with the most special people in your life. With its satisfying taste, your and your loved ones' sugar cravings are guaranteed. So if you're looking to get one of the best presents to her that she will never forget, don't think twice about buying this best tasting handmade cake from Baylies. When you see the smile on your loved ones' faces, you'll be convinced that it's worth it!
Get this Handmade Cake from Everything But Flowers
Everything But Flowers is your premium online store offering the best of all kinds of presents for her. We have the Baylies Epicurean Delights Traditional Handmade Cake 250g in stock together with other treats that you can buy as presents for her or for yourself.
Explore our site today and find all the goodies and sweets you can give as presents for her together with Baylies Epicurean Delights Traditional Handmade Cake!