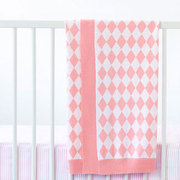 A truly versatile gift for new baby and parents, use this 100% soft cotton blanket in the cot, in the pram or in the car.
Marquise Knitted Blanket in Pink
One of the greatest joys in life is the blessing of a new baby. Babies through their charm and innocence bring out the best in people. There is something about babies that makes everyone suddenly cooing and giggling. Whether it is in your own family, a friend's, a distant relative's, or a neighbour's, being happy for the new parents is simply inevitable. If you are feeling especially thoughtful, our baby presents can help you show that you are one in celebration with the new parents and in the process show your love to the new cutie. For starters, you should check out this Marquise knitted blanket in pink.
What to Love About the Marquise Knitted Blanket?
This Marquise blanket is designed with a pink diamond pattern that is ideal for babies. When giving baby presents, you should consider the impact that your gift will have on the baby. Dr. Novella Ruffin, a professor in Virginia State University in the United States, explained that during infancy, the vision of babies is blurry and only beginning to develop. This means that during this time, everything they see in their surroundings is new to them. As such, it is advisable to have subtle images and keep away from over-elaborate patterns. The simple diamond pattern on this blanket is quite conducive to the development of young babies. Dr. Ruffin further discussed that babies tend to prefer patterned over objects with a solid colour. The contrast of pink and white colours in this blanket will definitely get the attention of babies and give them something to feast their eyes on.

This Marquise blanket is made from 100% soft cotton that is surely safe and comfortable for the little ones. We have heard how cotton is a good fabric. But what makes cotton a top choice for infants? According to the Health Guidance, cotton's natural and organic fabric is suitable for the delicate skin of babies. Unlike other materials, cotton is soft and does not rub harshly against the skin. Moreover, baby presents made of cotton are breathable and allow quick moisture absorbency. With this blanket, the baby will feel cool and comfortable all the time. Since cotton is non-allergenic, there is no risk of rashes and allergies.

Another characteristic that makes this blanket adorable is that it is knitted. There are a lot of advantages brought by a knitted garment; the top reason being that it is comfortable to use. A knitted blanket affords warmth and softness – features that baby presents should provide. As a bonus, a knitted blanket also allows flexibility. It means that it can be stretched to accommodate the user while retaining its shape and appearance. Talk about functionality and aesthetic appeal combined to one!

Finally, the material of this baby blanket makes it durable and easy to maintain. The best baby presents are those that the baby can use for a long time. Since cotton fabrics can be easily washed, the new mums and dads will have no trouble removing dirt from this blanket. A mild detergent and warm water can easily get the job done, without any hassle. The fabric can likewise endure varying temperatures without affecting its quality. This blanket can easily be the blanket for all seasons. Whatever the climate or weather may be, the baby will be protected by this durable and reliable blanket from Marquise.
Is Marquise a Trustworthy Brand?
When it comes to selecting baby presents, we want to make sure of the quality and reliability of what we are buying. After all, taking risks is not appropriate when dealing with objects for babies. In this aspect, you will definitely not take a risk in choosing Marquise because it has over eight decades of experience on its belt. Since 1932, Australian mothers have been entrusting their babies' clothing needs to Marquise. The brand has managed to master quality, design, and style that mothers and babies approve of. The company prioritises babies' comfort and ease. And it gives attention to every detail because it knows how precious babies are. Clearly, Marquise has established time and again that it is a trustworthy brand for baby garments.
What Makes Good Baby Presents?
Shopping for baby presents is both hard and easy. It is hard because it demands a lot of considerations since babies are too sensitive and need special care. On the other hand, it is easy because there are a lot of tips and advice available about shopping for baby presents. Here are some of the basics on what factors to consider in buying baby presents:
· Safety
The top priority of everyone who is buying something for a baby is the safety. Does it contain toxic substances? Does it include choking hazards like buttons or hooks? Does it pose risks of strangulation? Those are some questions you must ask.

Fabrics are not automatically safe. In recent years, a number of garments have been recalled because they failed to comply with safety standards. That is why it is important to buy fabrics that are 100% organic like this Marquise blanket. Some fabrics were derived from fertilised plants, which might contain dangerous substances for the babies. Being paranoid is not to be frowned upon when it comes to babies. You must always consider what could go wrong.
· Functionality
Since babies' movements are limited, there are few objects that are actually useful for them. Take this aspect in consideration as well. Clothing, toys, and sleeping paraphernalia are the most common stuff that babies use. The technique here is to think about what the parents would need most and find some use for. Choose something that you want them to remember you by. The adorable knitted blanket by Marquise is definitely a heart-warming gift that will put you on the good side of any new parents!
· Features
Also consider the convenience of use, durability, style, materials used, and other features. Do not just buy what looks good. More often than not, what looks good is not comfortable for the baby. Fortunately, this blanket looks good and at the same time is quite comfortable to use.

In consideration of all aspects that make good baby presents, the Marquise knitted blanket is without question a must-buy baby present. It has all the qualities that will help make infancy a delightful and safe stage for babies and provides numerous reasons for new parents to be thankful for. Show a new mum or dad that you share in their happiness. Send this lovely knitted blanket on their doorstep!