Gift guide - What is hot this Christmas and what is not!
Author: Nicole Adler Date Posted:30 July 2016
Are you looking to show that you're "in the know" about the latest trends and the hottest fashions? Follow these tips when buying your Christmas Presents and show the world that you are a style icon! Look at our top picks for 2016 Christmas Presents at Everything But Flowers and let yourself be inspired by the latest look and feel of fashionable homewares, retro food offerings, and stylish tech items.
Time to make a statement? Wooden items for the home are very fashionable right now, and as it combines the beauty of wood with the elegant understatement of white-on-white, the Karlsson Wood Case Mr White Wall Clock will make an "on trend" statement on anyone's wall. Stylish and contemporary, Karlsson Clocks is the trendy Dutch design label synonymous with modern quality designer wall clocks, and the quartz movement will ensure that it keeps perfect time as well as looking good in the home. The big 37.5 cm clock face with stylish silver hands needs just 1 simple AA battery to run, and is easily visible from a distance, making it the perfect addition to a kitchen, living area or hallway.
Also making a statement of its own, in a different way, is the stylish and practical Bamboo Chopping Board Set from Everything But Flowers. As Christmas Presents go, this one will appeal to those people who like their homewares to be natural and sustainable. Bamboo is perfect for this as it is extremely tough and hard wearing, as well as anti-bacterial, and beautiful enough to be on display in any kitchen. This set of tree different sized chopping blocks, complete with its own handy stand to sit securely on your workspace, will delight any serious food lover and cook.
Staying with wood, we can recommend the stylish and versatile Davis & Waddell Acacia Wood BBQ Caddy! Perfect for entertaining, this wooden caddy can hold cutlery and napkins, BBQ utensils, even sauces or other food items that are essential to a well-run BBQ feast. Save yourself several trips into the house by combining items in this practical and stylish caddy. Acacia wood is easily maintained and light yet durable, and we can see that this item could find many practical uses in and around the home.
Retro gifts and gadgets Retro is still looking very hot this year, and our taste for vintage items seems to be growing, rather than diminishing, so now is the time to grab those great retro gifts as stylish Christmas Presents for your trendy friends! Everything But Flowers has a huge selection of quality retro-design inspired gifts; here are a few of our favourites: The Anna Gare Retro Jar Tumblers are just perfect for a long cool drink in the height of summer. Stylish and practical, these retro jar tumblers by Anna Gare look like vintage jars for jams but carry a conveniently chic handle that can easily accommodate your hand. Designed to evoke memories of hot summer days, cool drinks, and carefree holidays, these tumblers are perfect for iced teas, smoothies, homemade lemonades or even alcoholic long drinks at your next garden party.
Sure to delight any bakers in your circle of family and friends, is this wonderfully romantic and vintage looking Anna Gare 'Hearts' Cake Stand. In white, with a diameter of 23 cm, this cake stand with its beautifully scrolled heart shaped edging will bring out the best of any homemade cake, meringue or other confectionary, and will make an impressive statement on your afternoon tea table. Equally suited to being piled high with delectable cupcakes or muffins.
When retro meets tech, interesting things can happen, such as the birth of the Smartphone Projector 2.0 By Luckies! Looking like an old fashioned box camera, this cardboard gadget allows you to project the images, videos or downloads from a smartphone (it is wide enough even to fit the iPhone 6 Plus) on to a wall for much more enjoyable viewing. So sit back and relax and escape the world for a little while with this clever little contraption. Suitable for use with iOS and Android phones.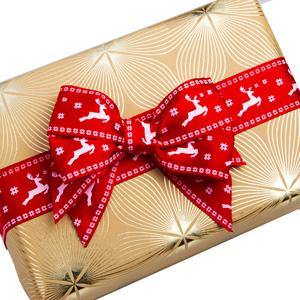 In a galaxy far, far away, you may have escaped noticing that one of the biggest films of recent times was the new Star Wars movie, Star Wars: The Force Awakens. A whole new generation of people will be following the exploits of the Jedi Knights and their companions while they battle the forces of evil. Delight any Sci-Fi fans with some Star Wars inspired Christmas Presents such as the Cross Star Wars Darth Vader or Stormtrooper pens, which are bestsellers at Everything But Flowers this year, or help them to keep their desks or work areas tidy with the delightful Star Wars R2-D2 Desktop Vacuum. The cute little android is powered by a USB feed and stands ready to deal with crumbs, pencil shavings or other debris that needs to be tidied away.
Star Wars lovers will also be delighted with Christmas Presents such as the Star Wars Gadget Decals from Everything But Flowers. This pack of 17 vinyl decals can enhance any gadgets from phones to laptops, and features a range of Star Wars favourites including fighter ships and figures like Darth Vader and Chewbacca.
Younger family members will no doubt be ready to get into training to be real-life Jedi Knights when they receive a Star Wars Lightsabre as a Christmas Present! Able to display a number of colours, featuring several battle sound effects and with an easy grip handle, this Lightsabre will provide hours of fun and amusement while they learn to "channel the force" and defeat the Empire. Needs 3 AA batteries to come to life!