What presents should you put around your christmas tree this year?
Author: Nicole Adler Date Posted:31 May 2016
The holidays are about to roll in, and it's time once again to buy gifts for your family and loved ones. However, are you yet to have decided on what Christmas presents to give them? There is no need to worry because we here at Everything But Flowers have a wide selection of gift choices that you can give your loved ones this Christmas. Not only that, but our options are of great quality and will definitely be appreciated by anyone who receives them as well.
New Year, New Look
The coming of the holidays signals celebration and being thankful for the year that has passed. It also means that we are about to usher in a new year, with new beginnings and experiences. Along with all those new things should also be… a new look!
Nothing feels better and more exciting than remaking oneself, and finding something different and fresh to connect with. A simple way that this can be done is through tweaking your physical appearance. In doing so, one may be able to feel more positive and confident. Get your family and loved ones feeling better about themselves by giving them jewellery and accessories that can make them stand out and feel good. Little additions to their wardrobe can be a way to spruce up old outfits. For the special men in your life like your father or husband, you can get the Sport Silver on Black Watch OOZOO. Not only does this provide you the service of telling the time, but it can class up any attire as well. For your mother, wife, or any other special lady, you can purchase for them the lovely Louenhide Coral Mischa Bag. Its stunning coral colour can add that much needed pop to a simple dress.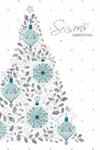 Homewares as Christmas Presents
Different kinds of homewares and house furnishings are great Christmas presents you may not have immediately thought about. Your home is an extension of yourself. It is great to have things in your home that reflect your personality and interest, or are of great use and value to you. What an amazing feeling it would be receiving Christmas presents that you actually need, and can use for household activities. We have dining and kitchenware, home decorations, bath and bed essentials, and many others. Simply pick out what you think would be best needed in your loved one's home that serves both style and function.
Moreover, for your friends and family that like to sleep in, this Acacia Wood Breakfast Tray would be a great gift. Perhaps whip up some breakfast-in-bed to go along with it. For those who are foodies and like their dining ware to be stylish, the Fiesta Tapas Bowl Set is something you can give.
Christmas Presents for the Little Ones
If you are looking for Christmas presents for your kids or younger siblings, then take a look at our choices of gifts for kids. From toddlers to teens, boys and girls, whatever their likes and interests may be, we have got the thing that will surely put a smile on their faces.
Perhaps you are tired of giving your children or brothers and sisters toys that kids just destroy and quickly lose interest in. Instead of giving out toys and trinkets, why not buy for them books and other educational materials? You may choose to purchase the Adventure Time Collection of Awesomeness, which is from the hit television show. With these books, get your loved ones into the habit of reading, and have them explore their imaginations as well! The Alain Ducasse Cooking for Kids Recipe Book may also be another interesting and useful buy. Perhaps your loved ones have become interested in cooking. This recipe book that is made especially for kids will help them along their way.
Quirky Christmas Presents that Bring Smiles and Laughter
Are you tired of giving the same old boring Christmas presents? Then let us help you brighten up your loved ones' faces with a couple of our cool and quirky gift options. Give them one of a kind presents that they never would have expected to receive. These may be items that bring laughter, or are interesting conversation starters. For your friends and family who love playing games and spending time together, you may give them the Drinkopoly Drinking Game. Have them bring this out when enjoying a couple of drinks, and have an even better and happier experience. Surely, there are tons of Star Wars fans out there. If your loved one is one of them, you may give them this Star Wars Lenticular Wall Clock. They will certainly get excited to hang this up on their wall, and will be a rare and special addition to any room's decoration.

New and Exciting Experience
Sometimes, the best Christmas presents are not material things that can be seen and held. Instead of giving your family member or loved one a gift that can be tightly wrapped into a box, maybe you can offer a new and exciting experience in its place. Everything But Flowers has a varied collection of experiences that can become significant life events. You can choose from various activities that can be done all around Australia. These can become not just trips, but also adventures and opportunities for learning. There are different classes, events and escapades that you can have your loved ones experience.

You may go and choose the Bondi Surfing Group Lesson, and have the recipient of this gift learn a new skill while being able to bond with his or her friends in the process. If your loved one is not really a sea lover and prefers taking off to the skies, this Helicopter Flight & Bubbly Breakfast For 2 may be just the right thing. After viewing the stunning sites from above, you and your loved one can enjoy a lovely and romantic breakfast. Although you will not be able to take away anything tangible with you, you still will be able to bring about great memories, and perhaps take home a photo or two.