Christmas present ideas for your co-workers
Author: Nicole Adler Date Posted:30 July 2016
Every year, thousands of us celebrate Christmas with our colleagues or co-workers by exchanging small gifts. Often this takes the shape of a "Secret Santa" event, where a budget is agreed and everyone draws the name of another worker out of the hat. Of course, some people are easier to buy Christmas Presents for than others, and if you are unlucky enough to draw the name of someone you work with but don't know all that well, it can be hard to come up with the right choice.
To make your task easier, Everything But Flowers has put together a wonderful selection of Christmas Presents to help you choose a great gift for your work colleagues. Here are ten of our favourites, with something for every type of person, to give you some ideas for this year's office, garage, factory or shop celebration. Choose from these fun, interesting, and thoughtful gifts, and best of all, they are all under $40 so they won't break the bank!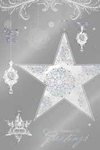 A perfect Christmas Present for the "organised one" in your place of work, this Pantone Notebook in Dazzling Blue will allow them to make lists, take notes, write or even doodle anything else that their heart desires! Definitely not boring thanks to its stunning blue cover, and practical as it is filled with some 80 lined pages of quality writing paper, this is a notebook that will be appreciated by both men and women.
Treat the person in your office who is always bringing in homemade cakes to this great High Tea Recipe Book. Full of classic afternoon tea time recipes for scones, cakes and other sweet delicacies, hopefully they'll get inspired and you'll be able to have a High Tea party in the office sometime very soon! A great Christmas Present for anyone who likes home baking.
The party girl in the office is bound to enjoy this cute set of Christmas Themed Wine Charms for her next party at home. It will stop people picking up the wrong glass of fizz as everyone will be able to identify their glass easily! Pair it with a bottle of something bubbly, like the Special Edition Prosecco by Brown Brothers for a Christmas Present that will surely hit the spot.
BBQ-lovers will adore this Butcher's Cut Heavy Duty Apron. In grey, with white drawings showing the various cuts available from a cow, sheep, pig and chicken, this will keep clothes safe and free from stains, and project an image of a Chef who knows what's what! Made from heavy duty cotton twill in a sensible size for blokes!
Gone are the days when you could not buy a candle for a man, these days many of them enjoy the sensory experience and fragrance of a good candle when they relax after a hard day's work. The Urban Rituelle Men's Soy Candle features citrus, juniper berry and nutmeg, along with rosewood oil; blended perfectly to create a sophisticated and masculine scent and soothing atmosphere.
For the office joker, you could do a lot worse than this naughty but nice Insulting Parrot. With language as blue as her feathers, this Pretty Polly will insult all those around her so may not be suitable for all office environments, but if yours is a workplace where people like a laugh, Polly will let rip when detecting any movement, which can lead to some interesting situations!
Do you know someone in your office who is always boring you with tales of their holidays? Poke gentle fun at them by presenting them with this original Scratch Map, which will allow them to scratch off every place they have ever visited, giving them a brilliantly factual, interactive and 100% personalised map of the world as a keepsake and reminder of their travels. As long as you don't have to look at all the holiday photos!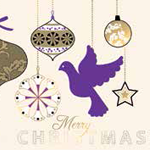 We've all heard of wine tastings, but these days, beer tastings are just as much the rage. This fun Beer Tasting Paddle Set combines four beer tasting glasses with an attractive wooden "paddle" to present them on, ideal for grabbing a few different bottles of beer and ale and having a "tasting session". Probably best on an evening when there is no work the following morning, just in case.
Please the co-worker who keep their own "special" tea at work with this beautiful Acacia Wood Tea Box. With six compartments to keep all their tea bags safe and sound, he or she will appreciate the thought and enjoy using their special Christmas Present all year round in the office. For a personal touch, add some exotic tea blends to complement your gift.
Not everyone brings their problems to work, but if the person you're getting a Christmas Present for has known some troubled times in the past 12 months, they will recognize many of the sentiments in this book. Today, Tomorrow, and Every Day is the story of a life lived with courage, beauty, and valour, inspired by the incredible women who touch our lives and leave a lasting impression. Written by M.H. Clark.
With this great selection of original, thoughtful and quirky Christmas gift ideas, there will be no excuse to turn up with a boring Christmas Present at the office party this year. Select one of the many affordable Christmas Presents from Everything But Flowers, and you'll be sure to score a hit with your colleagues and work mates. Now all you have to do is hope that your "Secret Santa" shops at Everything But Flowers as well, so you'll end up with a fun Christmas present too!