Personalise Your Christmas Present with a Christmas Card from Everything But Flowers
Author: Nicole Adler Date Posted:30 May 2016
Going around and shopping for Christmas presents have got to be two of the hardest but most rewarding things to do during the year. It's because of this that some people do theirs months before the holiday season. This is also probably the same reason why there is a sense of victory after checking off the items from everybody's wish list. But even with the best and most expensive gifts in the world, your Christmas presents will not be complete if it's not topped off with something to make it feel authentic, something to make it feel even more personal and special. Sure, ribbons make great additions, but it's the Christmas cards that really make the difference.

Why are Christmas Cards Great Finishing Touches?
Besides the fact that Christmas cards help the receiver identify who gave their Christmas presents, it also makes them feel special. People just usually give presents with generic-looking cards that are not only boring but also look like they weren't well thought of. Giving your friends, families, and bosses some Christmas cards would surely make their day even brighter. Plus, you can even put your own personal messages on the card, too. It wouldn't even matter how small the gift is because just the message would be enough to touch their hearts.
These cards are the items people cherish and put on scrapbooks and time capsules. Your Christmas presents may break and fade but these cards will always remind them of how much they are loved by you. These can actually also help them get through rough times or cope when they feel like they're unwanted or not good enough. These Christmas cards will remind them of how much they are worth in this world and how someone will be there for them no matter what. Sometimes, the seemingly little details make the most impact.

Are Christmas Cards Already Available?
When you buy Christmas presents or any other type of gift from Everything But Flowers, you're actually entitled to get a free card with it. However, since the website is updated regularly to match up with current occasions, these fun and glamorous Christmas cards may not be available just yet for you to include with your orders. So, as an alternative, you can buy certain Christmas gifts right now and pair them up with blank cards. They aren't actually blank. They have designs on their outer folds, but they're blank inside so you can personalise it for any occasion. Here are a few cards you can consider.

· Just To Say Gift Card – This card is designed with a cute dog wearing a shirt and holding a bunch of pink and white flowers. This is a perfect card for when you just want to say thank you or I love you to someone. This blank card is great for any occasion, even for Christmas.

· Pink Flowers Gift Card – This refreshing gift card is perfect for anyone who wants to help someone bloom for the season. According to psychology, flowers portray a gentle and peaceful state and pink depicts a feeling of compassion towards others. Taking the colours and the design into consideration, these make it a perfect way to show someone that you love them and that you care for them.

· Strawberry Thief Gift Card – This elegant gift card is a great way to top off your gifts if you want to make it look elegant. With patterns of strawberry, laced with stems and flowers and birds, it's sure to capture people's interest. Now you don't have to worry about people throwing it away after opening the gift. This card looks so good to be in the trash bin.

· Gold Hearts Gift Card – Anyone who says that hearts are only for Valentine's Day have not seen the Gold Hearts Gift Card yet. With gold-coloured hearts seemingly drawn to look like it were dangling ornaments; this would make a perfect gift card for Christmas presents under a familiar tree where ornaments hang.

· Poppies Gift Card – poppies have long been a symbol of hope. If you're looking to inspire someone, you can include this card with your gift and tell them about how poppies grew after the destruction of land in the Napoleonic war. This story will surely lift their spirits and give them a new sense of inspiration in addition to the joy they'll feel when getting their presents.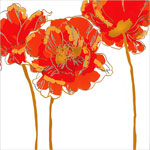 What Christmas Presents Can I Pair Gift Cards With?
Everything But Flowers has a wide selection of products you can pair with any gift card you choose. This makes it easier for you because you don't have to leave home to do your early Christmas presents shopping. Here are a couple of suggestions for you.

· Gifts for men – Though it's considered to be tougher to buy gifts for men, there are still a bunch of things that you can give men that would do well with all the mentioned gifts cards and all the ones that have not been mentioned too. For the geeky guy, you can try getting a CROSS Star Wars pen, a Lightsabre or a Game of Thrones colouring book. For men who love to cook, there's the Beef Carving Block and the Butcher's Cuts Heavy Duty Apron.

· Gifts for women – While it's easier to buy gifts for women, it's still important to take your time and select which ones you know that they'll appreciate. Clothes are always good options, but they may already have lots of those at home. So, if you really want to impress her, give her something that she can mix and match with like the Louenhide Navy Riley Handbag. But if she already has one of those, why not give her the MOR Marshmallow Eau De Parfum so that it also appeals to her other senses. Everything But Flowers will definitely have at least one thing women are guaranteed to like.



· Gifts for babies – Babies are, by far, the easiest to please when it comes to Christmas presents because it's a time in their lives where they're most curious. So, giving them something like the Dirty Dogs Bath Toy to keep them entertained when taking soapy baths with their parents.


Whatever the case, Christmas gift cards will surely be the cherry on top of every gift you buy for other people. It shows them just how much effort you've put into getting them something to bring them joy. So, what are you waiting for? Order the free gift cards from Everything But Flowers for your Christmas presents today!