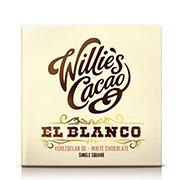 White chocolate as it should be, light & milky. Natural Venezuelan cacao butter, sugar cane from Guadeloupe and British milk.
Surprise Your Recipient with Willie's Cacao Chocolate!
When you need a Christmas present, or birthday presents for a special recipient, you should certainly consider chocolate from Willie's Cacao. At Everything but Flowers, customers can find birthday presents and Christmas presents that contain this delicious chocolate. But what makes Willie's Cacao so special? To learn about Willie's Cacao, and find out what they contribute to our Christmas presents and birthday presents, please read our information below.
Where Does Willie's Cacao Chocolate from the Christmas Presents and Birthday Presents Range Come From?
The Willie's Cacao chocolate from our Christmas presents and birthday presents range is produced in England, the location where the Willie's Cacao chocolate factory is situated. However, Willie's Cacao chocolate cannot be described as fully British, because the cacao beans used to make the chocolate are obtained from exotic locations across the world; this includes Venezuela!
What Makes Venezuelan Cacao Beans Special?
Many people claim that the best cacao beans are grown in Venezuela, which could explain why William Harcourt-Cooze, chose Venezuela as his base of operations. While visiting Venezuela, William encountered his first cacao tree and found its multi-coloured pods inspiring. Three years later after this experience, William bought the cacao farm and founded what is now known as Willie's Cacao.
What Is the Difference Between the Beans Used by Willie's Cacao and Normal Cacao Beans?
The simple answer to this question is flavour, because Willie's Cacao makes its chocolate with Criollo and Trinitario beans. Even though these cacao beans are more difficult to grow and are not as productive as other types of beans, such as Foreastero beans, responsible for more than 75% of the world's chocolate, the Criollo and Trinitario beans have a lot more flavour than the average cacao bean. Therefore, Willie's Cacao tastes quite different than the average chocolate bar you could get at the supermarket.
Can't Other Chocolatiers Just Use the Same Cacao Beans to Obtain the Same Chocolate?
Not quite, because the production of Willie's Cacao chocolate depends on three things: bean genetics, post-harvest practices and the style of the chocolatier. To produce the same chocolate flavours Willie's Cacao is famous for, chocolatiers would have to copy each aspect of the production process used at Willie's Cacao.
Is Willie's Cacao Chocolate and Organic Chocolate?
The chocolates at Willie's Cacao are not always certified organic, because the creator of this chocolate – William Harcourt-Cooze – is more concerned with what is natural and best, opposed to products that are certified organic.
Still, the cacao beans used to create Willie's Cacao chocolate have not been subjected to chemicals, but even though they haven't been in contact with chemicals, only a minor part of the cacao beans at Willie's Cacao are certified organic.
Is Willie's Cacao Chocolate a Fair-Trade Product?
Many people prefer to obtain fair-trade products. If you obtain Willie's Cacao chocolate, you are certainly buying fair trade. Willie's Cacao is focussed on the ethically sourcing of their beans, as well as the way producing their chocolate in an ethical manner.
What Other Chocolate Gifts Can I Obtain from Everything but Flowers?
In addition to Willie's Cacao chocolate, there are many chocolate-related gifts at Everything but Flowers. If you are curious about our other chocolate-themed gifts, please read our overview of delicious chocolate gifts and experiences below.
The Chocolate Fantasia Class
Genuine chocolate lovers would love to know how to make their own chocolate, so gifting them the opportunity to do just that is probably one of the best gifts you can give them. Inside our experiences range, customers can obtain the Chocolate Fantasia Class for their recipient, which enables them to make their own chocolate.
During the Chocolate Fantasia Class, participants start by making a two-tier chocolate cake, and then cover it with the finest chocolate ganache. After that, students will also learn to create their own chocolate garnish, flowers and even ribbons. In short, the perfect cooking class for anyone who loves delicious fresh chocolate treats.
The Chocolate Walking Tour for 2
If your recipient would prefer to taste chocolate, opposed to making it, then you may want to gift them a Chocolate Walking Tour for 2 in Melbourne. During this walking tour, participants get submerged into ten chocolate tastings, but also get some freebies such as a bottle of water, the 'I'm a Chocoholic' badge, a map, tasting bag, special in-store offers, afternoon tea and wine tasting.
Each chocolate walking tour can last anything between two and two and a half hours. During which, you can explore some of the charming streets, arcades and even laneways in Melbourne.
Chocolates & Red Shiraz Hamper
The Chocolates & Red Shiraz Hamper is another great gift for chocoholics. Inside this hamper, recipients can find delicious chocolates from Butlers Irish Chocolates, but also some chocolate from one of our favourite brands – Willie's Cacao.
In addition to the chocolates inside this hamper, recipients also get delicious treats from Maison Fossier and Morgan's, all complemented with a glorious 2013 Cape Mentelle Shiraz. Since the shiraz can be aged for another 10 years in a wine cellar, this hamper could be ideal for a wine collector as well.
Chocolate and Love Gift Box
If you need a present for someone who prefers ethical gifts, but also has a real appreciation for quality chocolate, you should choose the Chocolate and Love Gift Box. Inside this gift box, recipient will find four bars of award-winning organic chocolate, each with their own distinctive flavours.
Can I Find Other Chocolate Gifts at Everything but Flowers?
Since our room for each article is limited, we simply do not have the space to mention all the chocolate gifts customers could obtain from Everything but Flowers. However, there is an easy way to find all the chocolate gifts at Everything but Flowers. Simply enter the word "chocolate" in the search bar on the top of our website, and hit search to get an overview of our chocolate gifts.
Can't decide which chocolate gift is best for your recipient? Contact our customer support team and let us help you select the right gift for your recipient!
Related Products