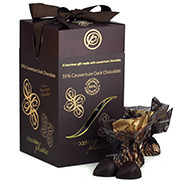 Lucious dark chocolate pieces that simply melt in the mouth, made using Callebeut chocolate with 55% cocoa solids.
Chocolate Plato by Fardoulis 55% Couverture Dark Chocolates 150g
It is almost Christmastime again! As the season of gift-giving nears, Christmas presents start to preoccupy the minds of people. You must get moving on your Christmas list to avoid last minute panic buying. You do not want to rush as everyone else is doing their shopping. If you are wondering what you should give as Christmas presents this year, we say chocolates! And lucky for you, we have the most irresistible dark chocolate plato by Fardoulis.
What to Love about the Chocolate Plato?
A box of chocolate plato contains luscious dark chocolates that melt in the mouth and delight the palate. Made of 55% couverture dark chocolates, each bite has the perfect blend of sweetness and bitterness that will suit the taste of everyone.

Made using Belgian Callebaut couverture chocolate, everything about the chocolate plato speaks of gourmet. The words used to describe this goody are not the only ones that make it gourmet. Couverture is the term used in the chocolate-making industry to refer to a chocolate that is made with high cocoa butter content. The extra cocoa butter lends the chocolate a high gloss and a creamy, smooth flavour. Once you get to taste the chocolate plato, you will understand how much its smoothness differs from ordinary chocolates. Being a superior quality chocolate, couverture is used by culinary professionals around the world for top-notch recipes. With the chocolate plato, you are guaranteed to give fine-tasting chocolates to your loved ones this Christmas.

Because of the high-quality of couverture chocolate, it is more expensive than other chocolates. As such, you should save the chocolate plato for extravagant occasions when people actually notice the quality and look for great taste. Undeniably, chocolate plato fits the grandness of the holiday season, which only means that it is a suitable item on your Christmas presents this year.

Not only is the chocolate plato rich in flavour and texture; it is also beautifully presented. Each chocolate is carefully wrapped in a gold and brown wrapper that preserves the richness and freshness of the chocolate. The chocolates are then packed in an elegant box adorned with gold letters and symbols and a brown ribbon on top.
Who Manufactured the Chocolate Plato?
When it comes to chocolates, knowing who the manufacturer is matters. The Chocolate Plato is proudly hand-crafted by the Fardoulis Family that has been in the business since 1985. Fardoulis chocolates are renowned for their distinctive, fine tasting world-class chocolates. The exquisite smoothness and flavour that engages the taste sensations are evident in every bite of the chocolate plato.
Why Choose Chocolates as your Christmas Presents?
Edible gifts are not invented yesterday. Giving food as Christmas presents has long been practiced by our ancestors. Chocolates are among those that have consistently won hearts and tummies during Christmas. Below are some reasons why you won't regret giving chocolates this Christmas:
1) Undeniable love for chocolates
Eating chocolates is arguably the favourite guilty pleasure of everyone. That alone is sufficient reason to send them to your loved ones. The purpose of gift-giving during Christmas is to spread joy and to let people know you care about them. Nothing says 'Enjoy Christmas!' better than a box of delightful chocolates. Simply put, you can never go wrong with chocolates. Even if your recipient is not a fan of sweets, other members of his family or friends will surely love to eat the chocolates on his behalf.
2) Appropriate for all
Chocolate transcends age, gender, culture, and everything else. Children will jump for joy upon opening Christmas presents filled with chocolates, but the excitement applies also to adults. Whatever stage your recipient is in his life, a box of chocolate will surely be appreciated. If you are looking for a gift that is a sure hit for everyone, chocolate is clearly the easiest choice.
3) Perfect for sharing
Whether they come in bars, boxes, or individual wrappers, chocolates are good for sharing. And generosity is the essence of gift-giving. As Christmas presents, chocolates encourage the act of sharing to continue.
4) Health benefits
Although chocolates are often associated with unhealthy habits and diet, the sweet treats actually bring health benefits. According to the American Institute for Cancer Research, chocolates contain flavonoids, which are phytochemicals that serve as antioxidants. Dark chocolates just like this chocolate plato are jam-packed with flavonoids. Studies revealed that eating chocolates in moderation increases heart health by lowering the blood pressure and improving the function of the blood vessels. In addition, flavonoids slow down the oxidation of bad LDL cholesterol that clogs blood vessels once oxidised.

A Huffington Post article enumerates several health benefits of chocolates; among them is that chocolates improve mood and pleasure by boosting the endorphin and serotonin levels in the brain. Eating chocolates is also associated with improved cognitive performance as they increase the blood flow to the brain. So, the rumours about chocolates being good for studying and concentration is not a myth as research shows that they actually make people more awake and alert. In addition, chocolates contain minerals such as calcium, potassium, and magnesium.
5) Available in a variety of flavours
Chocolates are available in various flavours. This chocolate plato is made from dark chocolate, but it is also available in milk chocolate flavour. We also have other chocolates made by other manufacturers that come in white chocolate, have almonds, fruits, peanuts, or is blended with caramel or honey. You can adjust your choice depending on the preference of your recipient.
What Other Ways Can I Give this Chocolate?
We understand that when it comes to your loved ones, you want to give them the best. That is why a box of chocolate is sometimes not enough. Everything But Flower has included the dark chocolate plato in several of our hampers. Instead of a single box, you can get the Chocolates & Red Shiraz Hamper, which comes with a bottle of Brown Brothers wine and other sweet treats from Butlers and Willie's Cacao. Or if you want to get the dark chocolate and milk chocolate plato by Fardoulis, the Australia's Finest Sparkling & Chocolates is the hamper for you. For the ultimate Christmas presents for everyone at work, the Premium Office Share Gift Basket, which has everything from sweet biscuits, savoury snacks, delectable wines, to chocolates, is the way to go.

This Christmas, let your loved ones delight in the sweetness of chocolates. And in that sweetness, remind them how much you care for them.