Birthday Gifts for Teenage Girls
Author: Nicole Adler Date Posted:23 July 2016
Shopping for the best birthday presents for teenage girls can be a challenge with the many options for gifts you can choose from. You have to think of what kind of gift she'll appreciate the most. You can give her a gift that's related to her hobbies, or something that can help her become more productive in the adult world.

All teenage girls aged 13 to 19 have their own personality quirks and life interests. The best kind of birthday presents are thoughtful, useful, and unique. Luckily, you can find all the high quality birthday presents you need at Everything But Flowers.

From Adolescence to Adulthood
A girl's teenage years is a path from childhood to adulthood. It's the time when they begin to shrug off the carelessness of the playground; this is when they usually assume more responsibilities. They also branch out to more people and to more interests, making them more mature in the future. So, the birthday presents you should give to your daughter, niece, younger sister, cousin, or friend should be one that can help her in this transition. You should also keep in mind that most teenage girls have to balance their academics, social life, and family.

Watches and Accessories
Watches and accessories are popular gifts for teenage girls. They are a staple in every woman's cabinet. For a teenage girl, a watch can signify increasing maturity and responsibility. By giving her a classic and beautiful watch, you're telling her how much you support her and at the same time, you're helping her get more organised. Lambretta productions are solid and sturdy watches to choose from. You can go for the Graphite Mesh Cielo Watch by Lambretta for something that is both understated yet unique. Or for something more classic and easy to style, you can give her the White Leather Watch by Lambretta. Of course, you shouldn't forget about the youthful and fun side of teenage girls. That's why you should also consider the quirky Cielo White with Dots Leather Watch or the Cielo Black with Dots Leather Watch, also by Lambretta.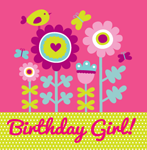 Accessories are also excellent birthday presents for teenage girls. Their adolescence is the period where they begin to attend more social events, like the school dance or festival. It's the time when they also have to dress formally in some academic presentations. So it's important that you give them accessories to make their outfits complete. But be careful not to give accessories which are too mature or too overwhelming for their needs. Try the Indi Necklace Blue by Vivid Jewellery, which also comes in yellow. This necklace adds the right amount of colour to a girl's outfit. Or try the light and vibrant Nina Necklace in Coral by Vivid Jewellery for a casual getup. If you're looking to give a more formal accessory, you can give her the Sonrisa Nautical Blue Necklace. It's perfect for that dance or for that important school report. An everyday present you can also give is the elegant and beautifully-carved Gold Wishbone Charm. Give her a taste of luxury with the right style of accessories.

Wallets and Bags
Wallets are another staple and popular birthday presents for teenage girls. They are stylish accessories that can also complete an outfit. But more than that, giving a wallet shows how much you value their growing financial maturity. In a few years, they'd have to be responsible for their own money. This is especially helpful for the teenagers you know who are already working part-time or full-time. Give them the stylish Louenhide Putty Isla Wallet, which comes in a neutral colour. It's sure to match with any bag and outfit combination. It is also made with high quality materials, making it durable for daily use.

Handbags are also top birthday presents, as they are really useful in school or after-school activities. For a bit of summer pop, give her the Louenhide Mango Mischa Handbag. For something that's more classic, you can go for the timeless Louenhide Gold Mischa Handbag or Boston Black Leather Bag. If she's the kind of girl to appreciate practical gifts, the Louenhide Baby Chicago Handbag is the perfect school companion.

Beauty Essentials
Beauty essentials are also in-demand for teenage girls. It's important that they get to dress up, present themselves well and have fun. Give them the experience of luxury with only the best of care products. Try to the Two Birds of a Feather Pack by MOR, which comes with decadent wash and lotion. Girls are sure to appreciate other products by MOR, such as the Boxed Marshmallow Soap and the Eau de Parfum. They are formulated to give a touch of indulgence and a show of feminine fragrance.

More and more teenage girls are becoming interested in make-up. If the teenage girl you're shopping for is interested in cosmetics, you should also try the MOR Compact Mirror and the Louenhide Camel Cosmetics Bag. They are the perfect companion for the teenage girl on-the-go

Productivity and Books
Lastly, the teenage years are a time of increasing responsibilities in the school, family, and community. Any gift that can help her cope with the stress and balance all of her commitments would surely be appreciated. A popular gift would be stationery. Give her the Pantone Notebook in Pink Lady, which can perfectly accommodate notes for the busy teenager. It's pocket-sized and comes with detachable pages. If she'd prefer a different colour, you could get the Pantone Notebook in Dazzling Blue or Tomato Red. To jot down notes in class, you can give her the beautiful Marimekko Notebook Collection.

Coping with the stress of being a teenage girl means she will also appreciate any advice or help you give her. Inspiring and motivational books are also popular birthday presents to give to teenage girls. The goal-planning book 'Start Today' by M.H. Clark contains inspirational statements that can keep her moving. Other excellent works by the same author include 'Love Who You Are' and 'Fight On'. Give her gifts which can give her a bit of direction while she's discovering herself.

Novelty Birthday Presents for Teenage Girls
Teenagers love to have fun, so it's not all about becoming an adult and being productive. Gifts which help her have fun with her friends or which support her interests are also incredible popular. Everything But Flowers offers a wide range of exciting birthday presents for the fun-loving teenager.

Fun with Friends
Most teenage girls love to go out on outings with their friends. If your relative or friend is the adventurous type, you can give her an experience as a birthday gift. The Bondi Beginner Surfing Group Lesson and the Byron Bay Private Surf Lesson are the ideal birthday presents for a girl who loves seeking new experiences. On top of that, she gets to go out on a trip with her friends. You can also go for the latest ocean craze, with the Coogee Stand Up Paddle Board Lesson.

And if she's the type to go on a girls' night out with friends, the Fred My Tai Umbrella Drink Markers are the cutest drink companions you can gift her.

Interest Books and Presents
Of course, you can also give her birthday presents which will encourage her interests. If she's into photography, you can buy her lessons from the popular Back-to-Back Photography Workshop in Sydney. Or if she's into a different kind of art, you can give her advanced colouring books. Start with the classic 'Glorious Gardens', the calming 'Secret Garden Artists Edition' by Johanna Basford, and the fun 'Swoon Heartthrob Colouring Book'.

Lastly, you can give her quirky birthday presents, like 'The Ladybird Book of the Hipster', which is a hilarious take on modern day problems. You can also give her the Bullshit Button, which is a fun and novel way for her to communicate.

Other Birthday Presents from Everything But Flowers

When it comes to giving the perfect birthday presents for teenage girls, you won't have to worry. You can find all of these popular gifts and more at the online shop Everything But Flowers. From gifts that can pamper to books that can amuse, Everything But Flowers has the birthday presents your relative or friend will surely appreciate.

Still a bit confused? You can make a statement by giving her a $100 or $50 gift voucher instead. This way, you can give her as much freedom and independence in choosing a gift as she wants.

Go buy your top quality birthday presents from Everything But Flowers, and give your family and friends the perfect show of affection.